02/15/2018 
Source:
i24NEWS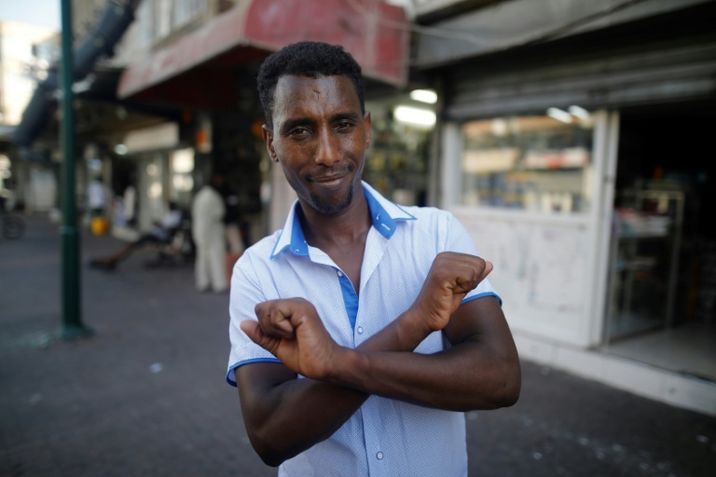 Eritrean migrant Tsgahans (Johnny) Goytiom, 30, speaks to AFP in Neve Shaanan street in south Tel Aviv on September 5, 2017
MENAHEM KAHANA (AFP/File)
Eritrea is a violent and repressive dictatorship where obligatory conscription gets easily extended for many 
A Justice Ministry's immigration tribunal in Tel Aviv ruled that an Eritrean draft dodger should be entitled to asylum based on international conventions, rising the hopes of those fearing deportation into third countries.
Eritrea is a violent and repressive dictatorship where obligatory conscription gets easily extended for many years and soldiers get exploited without a chance to pursue different lives, which is why they often choose to flee abroad and start off from scratch.
The ruling found that Eritrean draft dodgers have a "very well-founded basis for persecution" and should therefore be granted asylum.
However, judge Elad Azar who is the author of the ruling said his sentence should not be considered a blanket ruling applying to all migrants in Israel who have fled Eritrea to escape the army.
"The ruling does not mean that anyone who states a claim that they are a deserter or draft dodger from military or national service in Eritrea is entitled to refugee status," the judge said.
Ristom Haileslasie, a refugee from Eritrea who risks involvement in the deportation plans in the next few months, spoke at an event against the expulsion of refugees in Tel Aviv describing the persecutions he would endure if returned to Eritrea.
"I was drafted into the Eritrean army and served there for three years," recounted Ristom Haileslasie at the event where i24NEWS was present.
"But in my country army service seems to never end: I tried to go back to my studies but was denied permission a number of times."
Eventually, Ristom decided to escape prolonged exploitation in the army by leaving the country, but was caught and jailed at the border with Sudan.
"They kept me for three months in an underground jail in the middle of the desert," he said describing his detention at the border between Sudan and Eritrea. "There was no light, food would be thrown at us through the bars, you only see things like that in movies."
Des migrants africains dans le centre de rétention d'Holot dans le sud d'Israël, le 4 février 2018
MENAHEM KAHANA (AFP)
Ristom  Haileslasie, who speaks Hebrew after eight years spent in Israel and says he feels at home here, was then moved from jail to jail until he managed to escape and reach his house with the help of his brother.
When he tried to leave the country again, he succeeded in illegally penetrating Sudan and then made it to Israel through the Sinai.
"The Sinai part of the journey is deadly tough, the bedouins mistreat you and blackmail you," he recounts.
Once in Israel Ristom  Haileslasie progressively integrated, learned the language and found a girlfriend here. During his talk with his very classmates at the language school in Tel-Aviv, he emphasized "ani lo irgashti palit", I never felt like a refugee here."
"I feel like Israel is my home now," he added, highlighting how, like many other migrants who risk deportation, he has no connection to Rwanda, the country he would be sent to.
African asylum seekers who entered Israel did so before 2013, when a fence at the border with Egypt made the journey impossible.
Ristom  Haileslasie, who is here since eight years, risks jailing and deportation if his two months work permit does not get renewed.
The initiative at Ulpan Bayt in Tel Aviv, where he was given an opportunity to describe his situation to fellow Hebrew students, is just one of many initiatives against the deportations currently being organized in Israel.
Israel's immigration authority has begun the process of deporting some 40,000 African migrants seeking asylum in Israel by handing out of expulsion notices to thousands of mainly Eritrean and Sudanese migrants and asylum seekers.
The first expulsion notices were issued to unmarried, childless working-age men whose requests for asylum were rejected or who attempt to renew their visas, which they must do every two months.
Those who receive the expulsion notices will be granted a permit until April, with a warning that they must leave the country within two months or face imprisonment.
In accordance with a controversial policy announced by Israeli Prime Minister Benjamin Netanyahu in December, migrants who agree to "voluntarily" leave Israel by March 2018 will be given a one-time payment of $3,500 and a plane ticket to a third country.
The expulsion notices say that deportees will be sent to an unnamed African nation which has "developed tremendously over the last decade" and enjoys a relatively "stable government."
"This is a country that has developed tremendously over the last decade and has absorbed thousands of returning residents as well as migrants from various African countries," the notice says.